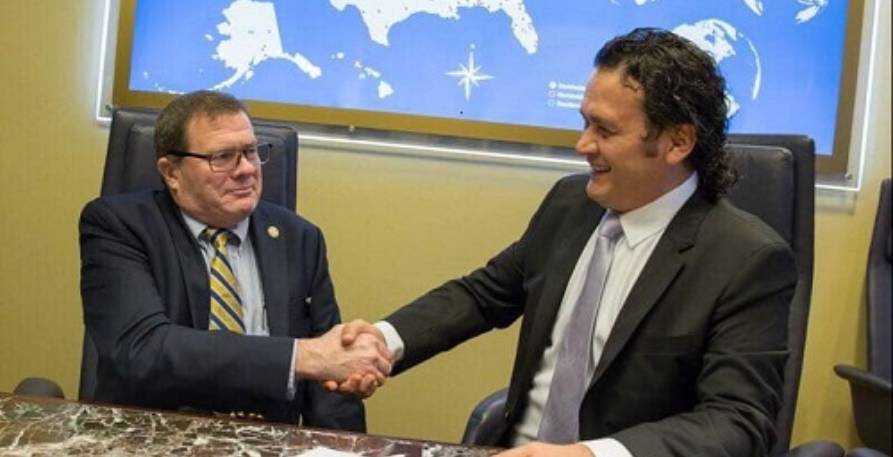 Flyco Group CEO Ergin Erdin (right) and Gary Burke, director of Embry-Riddle Worldwide's Office of Professional Education, signed an agreement to advance aviation education.
Flyco and Embry-Riddle to Offer Aviation-Related Courses Worldwide. Embry-Riddle's Worldwide Campus, through its Office of Professional Education, has signed an agreement with U.K.-based Flyco Training Solutions (Flyco) to offer an array of online, self-paced, self-guided aviation courses to airline, business aviation and general aviation customers worldwide.
Flyco offers an extensive e-library consisting of courses for pilots, cabin crew members, dispatchers, technicians, managers, handling personnel, loadmasters and ground personnel. The company provides mobile access to its resources as well as offline training options.
"We are delighted to announce this newly formed teaming agreement with such a valuable name in the industry," said Ergin Erdin, chief executive officer of Flyco. "With our new partners, we are hoping to achieve great results in the U.S. market as we are truly looking forward to our working together."
Under the agreement, Embry-Riddle will be able to create reports and monitor student progress using Flyco's advanced reporting system and other e-learning tools. The company's unique Learning Management System and courses are prepared in strict compliance with, and guidance from regulatory authorities such as the Federal Aviation Administration, European Aviation Safety Agency, International Civil Aviation Organization and International Air Transport Association.
"E-learning is undeniably one of the fastest-growing learning tools in aviation and Flyco is one of the leaders in the aviation e-learning market today," said Gary Burke, director of the Office of Professional Education at Embry-Riddle's Worldwide Campus.
"By combining the tried and tested methods of conventional training offered by our university with the new-generation computer-based training technology of Flyco, our users will be able to improve their skills both online and offline wherever they are. We believe our strong partnership will yield great results."